One step closer to the sustainability goal
Customer: Unilin Panels, Bospan plant, Wielsbeke (Belgium)
Sustainability takes center stage every day at Unilin Group and its companies. The group of companies aims in becoming 100% sustainable and is considered a pioneer of the circular economy. Unilin has already made good progress towards this ambitious goal. Unilin produces MDF entirely from the by-products of other industries. Non-recyclable wood waste is converted into green electricity and renewable heat in the company's two biomass power plants, just to give a few examples. More than 90% of the energy consumed at the Bospan plant comes from renewable sources, while more than half of the energy used group-wide is renewable. Unilin will soon add another biomass power plant, two additional wind turbines, and another 10,000 solar panels to achieve its sustainability goals.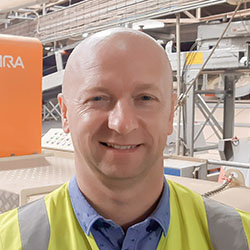 Lieven Vandoorne
Technischer Manager Unilin Panels
The almost complete absence of wear parts is a major advantage of the Dieffenbacher solution compared to other recycling technologies. It saves us a lot of time and money. When Dieffenbacher introduced us to their recycling concept based on X-ray technology and told us that we would be able to remove stones, all kinds of metals, and different types of rubber with just one machine, we were immediately hooked. Usually, sorting requires many different machines and technologies.
That's how we helped Unilin to get ahead
The latest venture in that quest is a Dieffenbacher line at its Bospan plant that uses X-ray technology to sort recycled wood. For Unilin Panels and its parent company the Unilin Group, the new recycling line is a significant step toward sustainability and higher profits.
The use of recycled wood has tangible economic advantages. The supply of fresh wood in the region is limited, which means that the company would have to buy it from all over Europe, incurring high transport costs and having a corresponding impact on the carbon footprint. In addition to the cleaning tower with X-ray technology and magnetic sorting, Unilin ordered a secondary crusher from Dieffenbacher to reuse the oversized material discharged from the other two recycling lines.
More ways to help you move forward