Our activities in the environmental area
At Dieffenbacher, we pay close attention to the use of natural resources such as air, water, flora and fauna and manage the impact our business operations accordingly. One of our most important goals is to reduce our carbon footprint. To achieve this goal, we work on both the environmental sustainability of our products and on reducing emissions and resource consumption at our sites.
Sustainability at our sites
Our goal for our three sites in Eppingen, Germany is:
We will reduce our CO2e footprint* by 50% in Scope 1 and 2 by 2030.
*Besides CO2, the CCF (Corporate Carbon Footprint) takes into account the greenhouse gases CH4, N2O, HFCs, PFCs, SF6 and NF3. For better comparability, CO2 is converted into CO2e.
Monitoring of our greenhouse gas emissions

We plan our activities in a targeted manner, recording our greenhouse gas emissions for our three sites in Eppingen in cooperation with our external partner KlimAktiv. Based on the internationally recognized "Greenhouse Gas Protocol," all processes initiated by the company that lead to emissions are evaluated in Scope 1, 2 and 3.

To define a reasonable starting point for our established goal and be able to exclude distortions due to effects caused by covid-19 (e.g., significantly lower flight volumes), we are using 2019 as the reference year. A new measurement will be carried out for 2022, after which we will evaluate the effectiveness of the measures implemented.
Our measures to reduce emissions

Based on the results of the 2019 carbon footprint, we have already taken effective measures for scope 1 and 2 (see below). For scope 3, project groups are developing reasonable goals and measures. For example, they are addressing the topics of business travel, the daily commute and the sustainability-relevant changes that will help us make progress with purchased services and goods such as steel. Once this phase is complete, we will gradually transfer the experience and knowledge gained to our sites worldwide.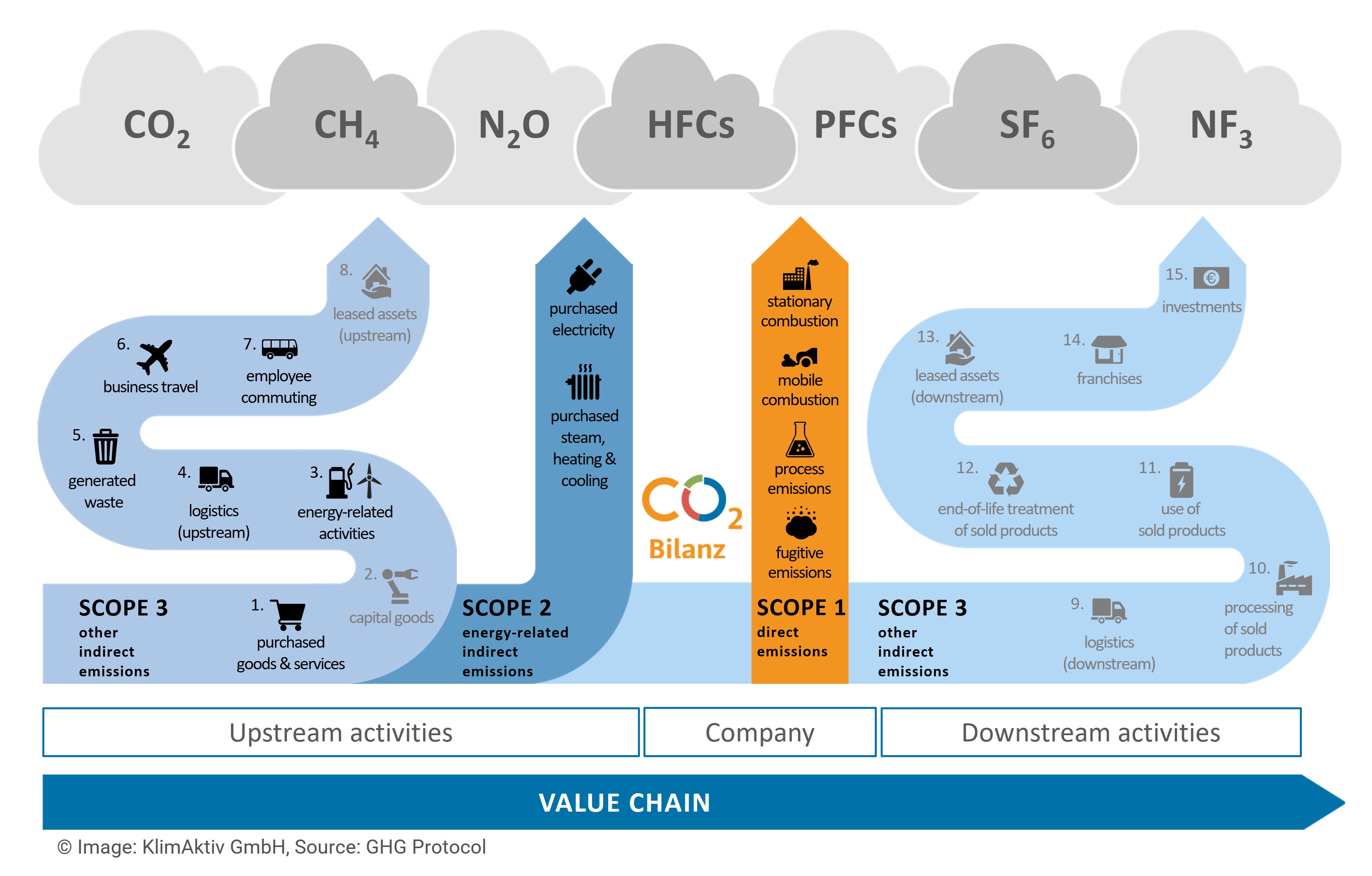 Scope 1 comprises all direct emissions generated within the company. Scope 2 involves indirect energy-related emissions such as electricity and gas. Scope 3 takes into account all other indirect emissions from upstream and downstream activities in the value chain over which companies can exert only limited influence.
Measures already implemented for sustainable development at our sites
Using CO
2
-neutral electricity:
Conversion to sustainable CO2-neutral electricity since January 1, 2022, at the sites in Eppingen, Leverkusen and Ötigheim.
To make our gas consumption more sustainable, we have purchased CO2-neutral gas (compensated, documented by a VCS certificate) at the sites in Eppingen and Ötigheim since January 1, 2022. In addition, we are working on measures to reduce our gas consumption.
We have operated photovoltaic systems on the roofs of our buildings for a number of years and are now able to make good use of every available square centimeter. These systems feed electricity into the grid and supply our own charging stations.
Hybrid cars replace our diesel-fueled vehicles:
Hybrid cars serve as a transition technology to reduce our emissions from business travels. As a next step, all company vehicles will be converted to e-mobility
In showers and washrooms, heat exchangers treat water using waste heat from air compressors.
Facade renovation of the office buildings in Eppingen:
Improved insulation reduces the energy consumption caused by heating and cooling in our offices.
Mindful use of our natural resources:
In the everyday work lives of our employees we want to continually create incentives to encourage sustainability. Here, initial measures have been implemented, including the change to recycled paper, abolition of all disposable cups in our vending machines, introduction of sustainable promotional gifts, e.g., Dieffenbacher honey produced in cooperation with the Werthonig apiary in Brackenheim-Hausen and the switch of our internal beverage supply to sustainable suppliers.
Sustainability of our products
In addition to considering our sites, we work intensively on the sustainable development of our products. After all, our machines and systems also require resources and cause emissions during operation. At the same time, the requirements for sustainable production are increasing not only for us but also for our customers and suppliers.
Across all business areas, we help our customers combine economic and ecological goals with our holistic smart plant concept CEBRO.
With CEBRO plants, our customers are able to:
+ Reduce emissions and thus reduce their carbon footprint
+ Save energy costs and produce energy more sustainably
+ Minimize material consumption and production waste
More ways to help you move forward